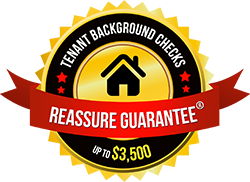 Finally, Tenant Screening with Teeth.™
We all hate hearing that one sentence from tenants "I can't pay my rent this month", or "I'll pay it tomorrow", "I just need a couple of days", this is a landlord's worst nightmare. If you have to evict a tenant how will you recover the legal costs? Lost rent? Suing your tenants may not work to recover ay lost rent or legal expenses because if the tenant has money you would not have had to evict them in the first place. Finally, there is a solution!
Introducing the Reassure Guarantee® by Binary Biometrics
If you work with Binary Biometrics and their third party network or licensed private investigators to help determine the eligibility of a tenant or tenants we will back up our tenant screening with our exclusive Reassure Guarantee® – it's a no hassle guarantee program that you can trust will pay you up to $3,000,  if the tenant doesn't pay their rent. It's a no string guarantee for our valued customers.
The Reassure Guarantee® Simplified
If at any time during the first 12 months of the tenant's lease you have to commence eviction proceedings, and you obtain a non-appealable, civil judgment against the tenant or tenants, Binary Biometrics will cut you a check the for the amount of judgment when you assign the judgement interest to Binary Biometrics.
It's as simple as 1-2-3!
Obtain the final, non-appealable judgment certified judgment from the court, or jurisdiction which you won the eviction case.
Open a support ticket, upload a copy of the  judgment along with and executed judgment assignment agreement. We may call you for clarification on case details and update tenant information.
We will send a check with tracking by USPS Express Priority for up to $3,000 that should help cover most or all of any lost rent, legal expenses or damages.
Have Questions? Let's Chat by calling 1-855-722-6695 or send us an email [email protected]